Service Guarantee
Every one of our customers receives our complete care service guarantee, ensuring superior customer service before, during and after your purchase.
Customer Service You Can Trust
Harmony Bath Solutions' Certified Aging-In-Place Specialists are professional, courteous and knowledgeable, and will come to your home at a time that is convenient for you. Your initial in-home assessment allows the Certified Aging-in Place Specialist to evaluate your existing bathroom space and develop a bathroom remodeling solution tailored to your specific needs.
Based on your unique needs, you will receive a no-obligation quote in writing along with all of the information you need to make your decision. Your price quote is guaranteed for 45 days and includes the walk-in tub or shower, delivery to your home, installation, old tub removal, and additional renovations (depending on your renovation needs), complete clean up (post-installation), and a detailed introduction to using your new tub. Most installations can be completed within one day, with minimal disruption to your home. Once installed, your completed bathroom renovation will go through a final inspection. Harmony Bath Solutions will always be available to answer any additional questions or make any needed adjustments to ensure that you are getting the most out of your new walk-in tub or shower.
Warranty Information
We stand behind our products. Jacuzzi® offers a lifetime leak-free warranty on all walk-in tubs and their one-sheet manufacturing process eliminates seams and potential leaks. If for any reason you are unhappy with your purchase, Harmony Bath Solutions will return to your home and provide a thorough assessment of work performed.
Easy Maintenance
Jacuzzi® walk-in tubs are easy to maintain, composed of a high-quality, long-lasting acrylic surface that's easy to clean . You will no longer need to use abrasive cleaners or have to vigorously scrub the surface. The acrylic surface is non-porous and prevents stains from penetrating the finish, unlike the gel coating on inferior tubs.
Safe Water Ozone Cleaning System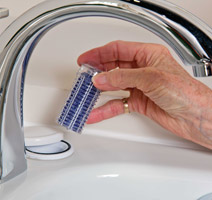 As with any jetted tub, there are all sorts of hidden parts that will also need cleaning. That's why Jacuzzi® walk-in tubs come standard with our Safe Water Ozone Cleaning System. The system keeps your bathing experience not only relaxing but also sanitary. It uses a natural germicidal agent that kills 99.9% of germs, bacteria and viruses while you bathe. In fact, it's the same system that Dasani® water is filtered through. Can you imagine taking a bath in the equivalent of bottled water?
In addition, your tub is compatible with Systems Clean, which is a two part plumbing system cleaner made especially for whirlpool baths. Systems Clean minimizes the build-up of residuals, such as soap scum and dirt from inside the tub's pipes, pumps, fittings and circulation system. It's fast acting, deep cleaning power breathes new life into any whirlpool bath and cleans and deodorizes all Jacuzzi® plumbing.